21 Major Ads in Two Months!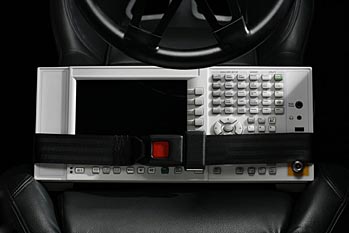 The sweltering summer months passed like a breeze as a flurry of activity was dedicated to the completion of 21 major ads in less than two months. The images ranged from macro tabletop shots of tiny figurines, to the up close sensuousness of textures, to professionally lit high tech machinery in a variety of ad concepts.
The work required extensive flexibility of Joniís range of skills and tools with lighting decisions, choice of camera equipment and the ability to interpret the needs of the agencies and clients. Joniís trusted assistant, Ken Kiggins, joined her in the quest of location scouting, set building, lighting problem solving, prop selection and the occasional weird humor that accompanies around the clock devotion to a craft that is loved.
Most of the concepts (simulation of rain, rose petals, glass shards, blanket threads to name a few) were shot in the studio, but one particular shoot was held at Sellwood Parkís basketball court. A fun aspect of this shoot, besides working with the exceptionally professional and efficient Euro RSCG staff, was guiding Lincoln Miller from Pushdot Studios and Marco Suson from Chopperz to work their modeling magic on the court. They were selected from a pool of models, and even though only one ad will eventually run, they both were troopers in allowing us to position them high above the court on a ladder with a basketball taped to their palms. For over an hour. Much thanks to Lincoln and Marco!
Childrenís Cancer Association Refers Families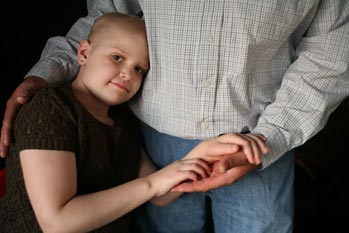 Amidst the schedule intensity of commercial advertising shooting, making time for lifeís most tender moments is something the staff at Kabana Photography does not wish to forget in their haste of delivering assignments on time.
The Childrenís Cancer Association refers families to Joniís studio to obtain a free portrait of their child and any other family members. The staff at CCA coordinates these sessions, but when the child gets into the studio, it is their ideas for a portrait that become the directing factor. In all sessions, each child knows exactly how they want to present their interaction with their families and the result is a sensitive and revealing portrait of the child and their family, self-directed by the child.
At the dayís end, all problems and disappointments pale in comparison to the struggles and influencing strength these children present.