Margie Smeller Art Show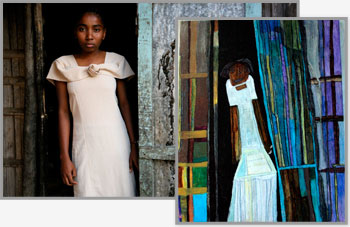 The highlight of the season was the coordination of the works of eleven Portland commercial photographers, with the work of one painter, Margie Smeller, from the Washington DC area. Margie, who lives with Down Syndrome, was the self curator of the show, selecting images from the various photographer's websites and basing her paintings off of the images. Marilyn Murdoch, owner of Katayama Framing, hosted the show and opening in October. Community support poured in for the opening night reception as well as in the weeks following.
Most of the paired paintings and photos sold with 100% of proceeds going to Art Enables, Special Olympics Oregon, CCI Enterprises and the painter. A few pairs of art pieces remain, should you be interested in purchasing.
Graphic designer Aimee Genter of Arnica Creative and Fulfillment Corporation of America donated the design and printing of a beautiful catalog. Adding to the celebratory atmosphere were donations by Elephant's Deli catering and Vinideus Wine Shop and Wine Bar fine wines. Cirrus Digital Imaging donated the printing of all of the photographs.
A hearty thank you to the sponsors The Standard and Point B Consulting – the show would not have been possible without their involvement.
FOOD!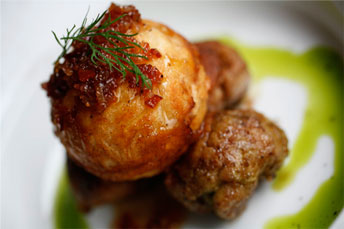 As we round the corner into the colder months, food photography has dominated the assignment flow. Joni sees little difference between shooting a portrait and a food image: in both she wants to evoke emotions and stir feelings with an intimate view of the subject.
Working with some of Portland's top chefs has been an honor, and food photography continues to be one of her favorite subjects to shoot. Capturing the artistry of the chef's colorful presentation, in a very limited timeframe, is an undertaking that Joni especially enjoys.
Her belief is that food images should be created on-site at the chef's own familiar kitchen, rather than bringing everything into her studio. Working with uncontrolled and varying lighting is one of Joni's signature skills; she refers to this challenge as "finding the sweet spot of light in a room" and uses various techniques to diffuse, bounce, warm or cool the light as it falls on the subject.
SENIOR PORTRAITS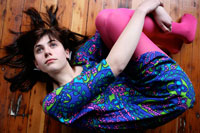 Alternative Senior Portraits filled the calendar as Joni's name continues to be recognized for offering a fashion or fine art creative eye to these too often replicated images. Joni takes considerable time with each teenager, and creates the images in the same manner as with her magazine assignments.